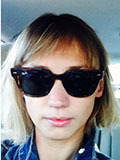 Victor Hernandez is a News Futurist with CNN Worldwide. In this role, Hernandez is charged with shaping critical vision and strategies around emerging technologies against CNN's journalistic endeavors.
Prior to his current role, Hernandez served as CNN's Director of National Coverage, where he oversaw the network's domestic news-gathering operations including the handling of strategic response to breaking news and in-depth coverage.
His work with new media, emerging technologies and convergence is among the most leading edge at CNN. Hernandez is viewed as an organization leader in the areas of new media, social networking and multimedia journalism. His leadership with the CNN All Platform Journalism initiative ensures the global news organization remains at the forefront of innovative storytelling opportunities. He has won Peabody awards for the coverage of Hurricane Katrina and BP Oil Spill.
He serves on CNN's Diversity Council and leads enterprise technology programs, was a distinguished member of Poynter Ethics Fellows 2008-2009, and is associated with the Society of Professional Journalists, Online News Association, and the National Association of Hispanic Journalists. Hernandez was named to SPJ's 20 Journalists/Industry Thinkers You Should Know list, 50 People in Media You Should Subscribe to on Facebook and Poynter's "35 Most Influential People in Social Media."