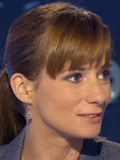 Michael Bolden is the Editorial Director for the Knight Foundation, which was founded by newspapermen John and James Knight.
Bolden worked for daily newspapers for more than 20 years, including 12 years at The Washington Post, where he most recently was transportation and development editor. He was one of the first supervisory editors in the Post's converged newsroom, developing strategies for multi-platform storytelling and social media outreach, while directing a team of reporters and owning web development projects. He has managed stories with national scope, including the growth of air traffic controller errors and its impact on aviation safety and the deterioration of the country's transportation and water infrastructure.
Bolden also has been an editor for The Washington Post Magazine, the Post's Style section and The Miami Herald. He began his career as a copy editor at The Times Picayune in New Orleans.
In 2011, he was a fellow in the Maynard Media Academy's program at the Nieman Foundation at Harvard University.
In addition to ONA, Bolden is a member of NABJ, NAHJ, NLGJA and the Society of Professional Journalists.