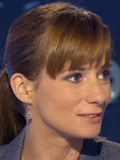 Meredith Artley is Vice President and Managing Editor of CNN Digital, where she oversees all editorial initiatives and leads a talented team that fuels CNN.com and CNN Mobile around the clock. She joined CNN in 2009 and is based in Atlanta.
Artley was previously the Executive Editor for LATimes.com and a Managing Editor for the print-web merged newsroom. Before that, she was the Digital Development Director for the International Herald Tribune in Paris, where she led IHT.com and drank good wine, occasionally in that order.
She cut her teeth at NYTimes.com, starting as a producer in 1996 and rising to the position of Associate Editor by 2002, where she managed the web newsroom.
She is on the boards of the Online News Association and the Global Editors Network. She also serves on the advisory board for the communications department at the College of Charleston.
Artley received her Bachelor's degree in broadcast journalism from the University of Missouri and also attended Appalachian State University.