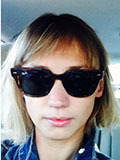 Jennifer Preston is a veteran journalist who works on The Lede blog for The New York Times, where she combines original reporting, curated news video, and user-generated content from social media to tell narrative breaking news and enterprise stories online.
After more than two decades as a reporter, author, editor, adjunct professor and senior newsroom manager, Jennifer became the NYT's first social media editor in 2009, charged with finding the value of social media for Times journalism. ONA and ONA members helped guide the way. Jennifer became an evangelist for using social media for reporting, real-time publishing and engagement inside and outside the Times newsroom.
In 2011, she turned to writing about the role of social media in the Arab Spring and now works primarily online for The Lede, using social media platforms to help report and present stories.
Jennifer was a fellow in the Sulzberger Leadership Program at Columbia University. She has taught social media to graduate students at Columbia J-School with former professor Sree Sreenivasan. She has spoken about social media around the world and at multiple ONA meetings in recent years. And she is determined to keep on learning how to tell stories and find them in new ways.
She is also the proud mother of college-age twins.