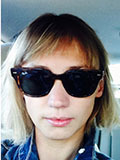 Jan Schaffer is Executive Director of J-Lab, a 10-year-old journalism catalyst that has rewarded innovations, funded news startups and researched what has worked to create new knowledge.
She is also Entrepreneur in Residence, American University's School of Communication, where she teaches in its Masters in Media Entrepreneurship program for working professionals. A Pulitzer Prize winner for The Philadelphia Inquirer, she left daily journalism to lead pioneering initiatives in the areas of civic and interactive journalism and citizen media ventures.
As a federal court reporter, she helped write a series that won freedom for a man wrongly convicted of five murders and landed the real murderers in jail. The stories led to the civil rights convictions of six Philadelphia homicide detectives and won several awards, including the Pulitzer Gold Medal for Public Service.
She has trained more than 1,000 journalists a year for the past seven years at J-Lab and industry gatherings. She has supported university and community news startups and women media entrepreneurs. J-Lab's five web sites offer deep resources for both pro and am journalists. She also serves on the Advisory Boards of the Ethics and Excellence in Journalism Foundation and SXSW Accelerator.