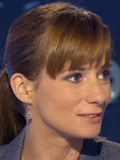 I started my career as a broadcast journalist, working in television for several years. Now I have incorporated that background with digital journalism, with a particular focus on social media.
As social media manager, I oversee KING 5 accounts on Twitter, Facebook, Instagram, Pinterest, and others. I also train and support KING 5 staff in their social media and community efforts, and I shape social strategy for all of KING 5.
I am passionate about the KING 5 community, and the increasing conversation and collaboration between KING 5 and our viewers/readers.