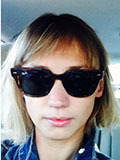 I've written for Wired, Seed, Columbia Journalism Review and The New York Times, among other publications. Most recently. I am the founding editor of Circa, a startup redefining how news is consumed on the mobile phone. Before that, I was the founder and director of Spot.Us, a nonprofit that helped pioneer "community funded reporting."
In academics, I've been a lecturer at UC Berkeley's Journalism School and a fellow at the University of Missouri's Journalism School at the Reynolds Journalism Institute. While at Columbia's school of journalism, I worked with Jay Rosen as editor of the groundbreaking Newassignment.net in 2006, which focused on citizen journalism and ways news organizations could explore the social web.
I also worked with Jeff Jarvis from Buzzmachine.com to organize the first Networked Journalism Summits, which brought together the best practices of collaborative journalism three years in a row (2007-2009).
I've been a contributing editor at NewsTrust.net, a founding editor of Broowaha, and an advisor to many new media projects, from the Global Editors Network and Beatblogging.org to The Public Press. I always help out where I can.